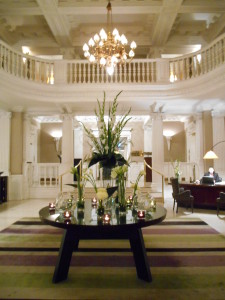 The Balmoral Hotel in Edinburgh, Scotland is a luxury five-star hotel originally opened in 1902. The hotel is recognized as one of the best places for tea and was even awarded The Tea Guild's Special Award of Excellence 2013.
Despite their reputation and accolades, The Palm Court was far from stuffy.  Rather, it was quite comfortable and welcoming.  The dress code for tea is "smart casual."  So, in other words, they invite you to come in and relax. I was under the impression that the patrons were a mix of business people and travelers unwinding just for a bit before heading back out into the busy world.
The staff are highly trained in customer service and will make your experience that rare combination of sophistication and ease.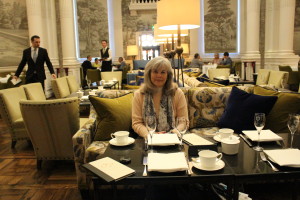 Even though we made reservations we were still pinched for time when we arrived so we didn't get to enjoy the full two-hour tea experience.  The hostess suggested that we just have sandwiches and scones, basically a good lunch.  Despite skipping the sweets, what we had was plenty. Sometimes when you travel you just do what you can.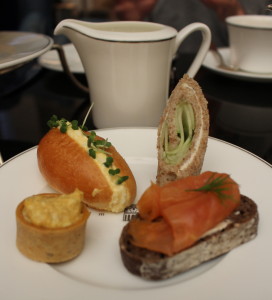 As you can see, the sandwiches were very attractively prepared.  We had
a cucumber and crème fraîche sandwich roll,
Scottish smoked salmon on malted bread,
egg salad on a mini-brioche garnished with watercress,
and coronation chicken.
Coronation chicken, a curry-based chicken salad, is a classic British recipe created at the time of Queen Elizabeth's coronation in 1953.
I believe someone should work up a recipe for me to celebrate my upcoming coronation.  I'm sure it's on the calendar somewhere.  What shall I be queen of today?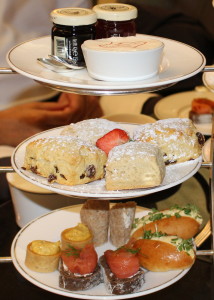 The fresh baked scones were  accompanied with a generous supply of strawberry jam and clotted cream.  The perfect companion with your tea.  Speaking of tea…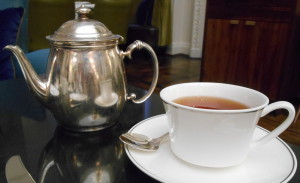 I had the Royal Scottish Balmoral Blend, a tea made exclusively for the Balmoral, because I felt that I should try a Scottish tea in Scotland and also because I had jet lag.  The well rounded blend of Assam and Ceylon black teas provided the strong dose of caffeine that I needed to keep going for the rest of the day.  It was quite lovely with a splash of cream.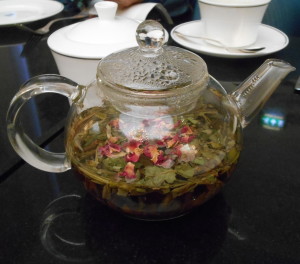 The highlight of the day was the Smoked White Tea that my friend Rick ordered.  Not only is it beautiful with the rose petals in the glass teapot the tea itself had a unique sweet and ever-so-slight earthy aroma with gentle flavors of fruit and floral notes.  It was very delicate.  Next time I go, I'll order this tea.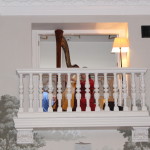 Special touches mean so much and somewhere along the way we realized that the lovely music playing was actually coming from a live harpist up in a balcony.  How cool is that?
I do recommend tea at the Palm Court.  The price for a full tea is £35. They only charged us £21.75 for the abbreviated 2-course tea.  At the time this was equivalent to roughly $35. Not terribly expensive compared to some other 5-star establishments.
If you go, you will definitely enjoy it but be sure to give yourself enough time.