It's taken me 3 months to chronicle our one-week vacation from Edinburgh to London.  Thank you for letting me share my pilgrimage to the land of tea.  For a tea lover like me it was the trip of a lifetime!  I'll summarize it here but click on the links if you'd like to read more about each tea outing.
Wednesday, September 16
Arrived in beautiful Edinburgh.  Off the plane, freshened up and what was the first thing we did?  We went to tea at the Palm Court in the Balmoral Hotel. What a great way to start our adventure!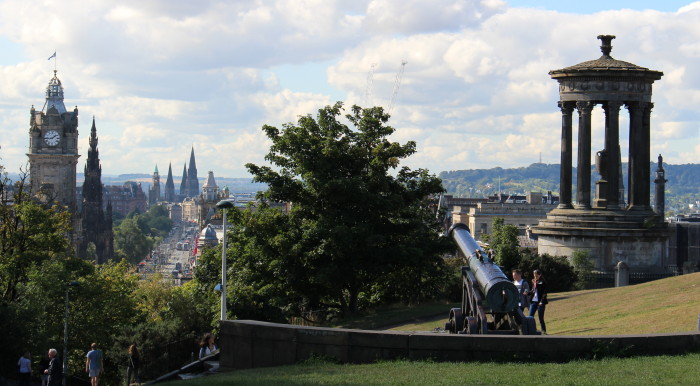 After that we explored the city and went up to Edinburgh Castle.  They had a tea room there.  It was booked with a private party but we still peeked in just to see what it looked like.  It seemed nice enough.  Maybe next visit I'll give it a try.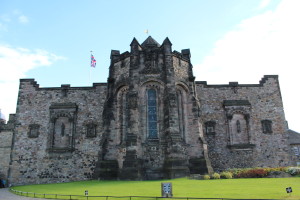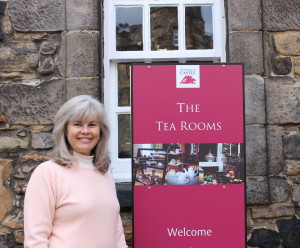 Thursday, September 17
That day we took off to beautiful Glamis Castle and then St. Andrews.  The Scottish countryside reminded me so much of home and the Appalachian mountains.
That evening we had dinner at a nice restaurant in Edinburgh.  We enjoyed it but what impressed me was in addition to coffee they also offered after-dinner tea.  So, I had some!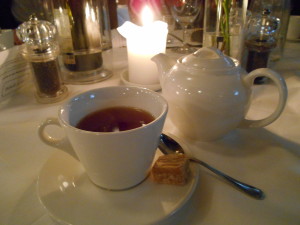 The little light brown cube is a "tablet."  The Scottish tablet is fudge's grainier cousin.  So instead of adding sugar to the tea you just nibble on it while drinking the strong brew.  For some reason, I didn't get much sleep that night.
Friday, September 18
We toured the very grand Alnwick Castle.  The tea connection here is that it is one of the film locations for Downton Abbey.  We saw an exhibit of some of the props and clothing used in the show.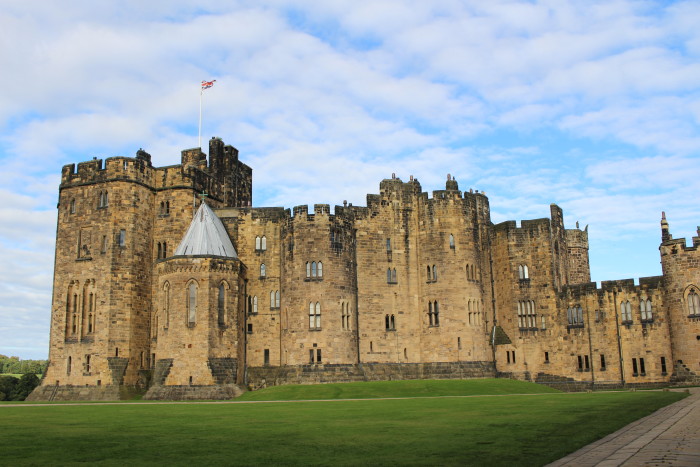 Various movies and TV shows have used the stunning castle for filming but the most famous on the list is the Harry Potter movies.  You may recognize it as the place where he learned to play Quidditch.
A little trivia for you:  J.K. Rowling lived in Edinburgh and wrote the Harry Potter books there.
Saturday, September 19
We spent the day in the historic walled city of York and toured the Minster, a large Gothic Cathedral dominating the skyline.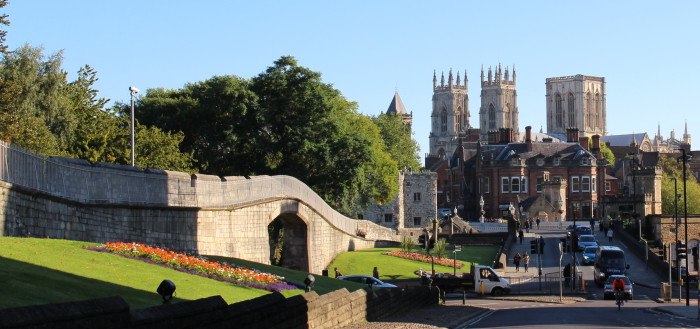 We spent our lunchtime at Bettys Tea Room and I was so glad.  It was the best tea experience of the entire trip.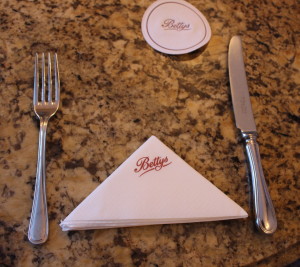 Sunday, September 20
We visited the Queen's summer house, Sandringham Estate, and had a little spot of tea at the Stables Tea Room.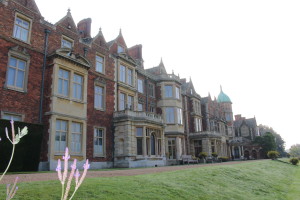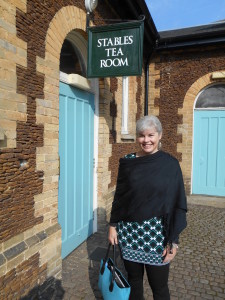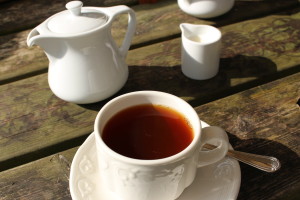 Then we had a lovely time in historic Cambridge.
Monday, September 21
We arrived in London and had lunch at the Wolseley before walking through Green Park and went into Buckingham Palace.  On a tour.  The Palace is open to visitors when the Queen is not in residence.
That evening we had Afternoon Tea at the Ritz.  Afternoon tea in the evening?  Yes, the only time they had available was 5:30 p.m. and we were lucky to get that.  We did make it a substitute for dinner; and knowledgeable person that you are, you might assume that we had high tea which is normally served at dinner time, but no, it was afternoon tea.  They just served it in the very late afternoon.  Click here to read more about the differences between afternoon tea and high tea.
Tuesday, September 22
We finally took it easy and slept in.  Then had a lovely, wonderful relaxed breakfast with tea.  It was a much better experience than the day before.
We spent our last day hitting some of our favorite spots in London:  Picadilly Circus, Westminster Abbey and Green Park.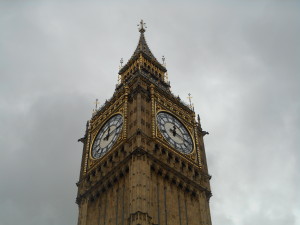 Things to know before you go –
Even though there are tons of reasons to go to Britain, don't go for the food.  There's a reason why no one ever says, "Hey let's go get some English food."  With that said, they are very good at what they are very good at.  Specifically chocolates and desserts.
I did expect a little more style, flair and creativity for tea.  Their sandwiches, for the most part, were very much on the plain side.  For that matter, their tea was mostly plain too and that was surprising to me.  You won't find flavored teas like you find in the U.S.  Maybe it was just the places we visited but I never saw options like blueberry, blackberry, or black currant.  Nothing wrong with that because what I did have was very, very good and it certainly would have pleased the purists.  It was just different that what I had imagined.
Overall we enjoyed our trip immensely and look forward to going back again someday.  There are so many more tea rooms and tea shops to visit!  Click here if you want to plan your own visit to tearooms in the U.K.
Let us know about your travels with tea!
Cheers y'all!