There is a hidden gem right off the bustling lobby of the iconic Peabody Hotel in Memphis, Tennessee. The entrance to Chez Philippe is tucked away behind the bar and once you enter, the train station atmosphere of the hotel lobby fades away.
Chez Philippe is richly appointed and glows with glittering old-world glamour. The walls are decorated with paintings and mirrors between gold columns enhancing the gilded age atmosphere.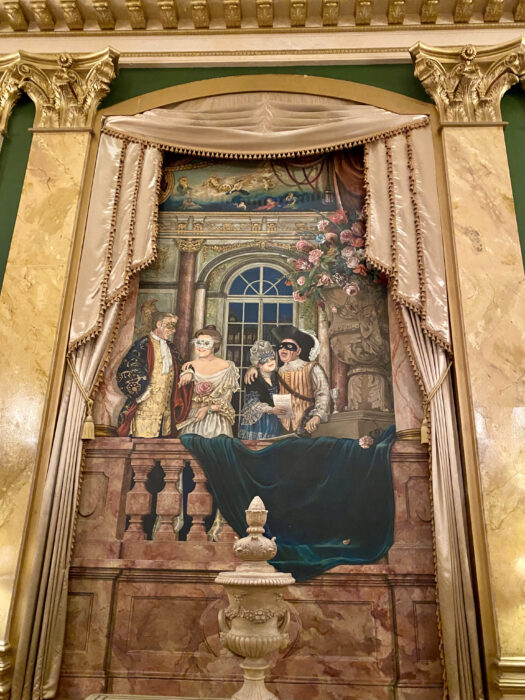 We felt very pampered from the moment we were seated. We poured over the menu because the first task at hand was to select our tea. The Peabody now serves Rishi Tea so I decided to be daring and tried the Ginger Pu-erh. To my regret. The taste was overwhelmingly spicy-hot from way too much ginger. Not what I was looking for in a tea so I changed to a standard English Breakfast Tea which I thoroughly enjoyed.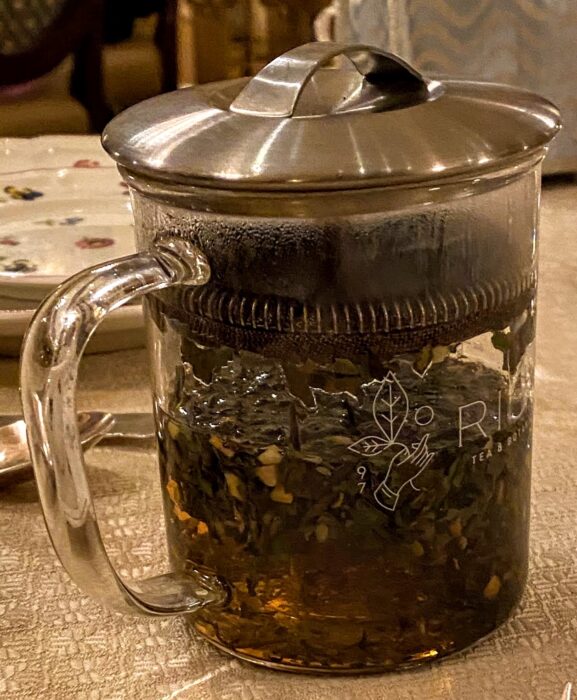 Our afternoon tea included three tiers brimming with savory finger sandwiches including Crab Salad with Radish, Salmon Mousse, Prosciutto and Melon, Curried Chicken Salad (my favorite!), along with Tomato and Cucumber on Pimiento Cheese.
Warm cranberry, cinnamon, and brown sugar scones were served separately with delectable Devonshire cream and strawberry preserves for tasty toppings.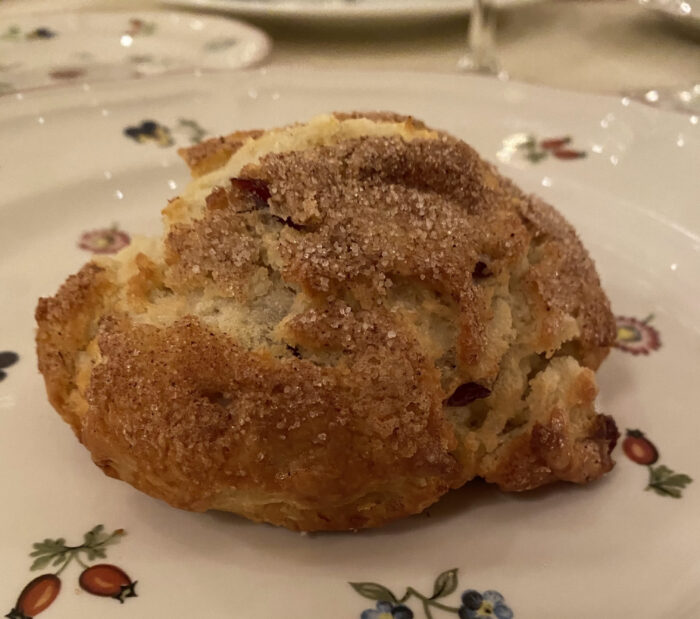 An enticing assortment of sweets topped off our elegant afternoon tea. My favorite was the many layered opera cake. It had a spongy texture that I enjoyed but some in our party were not a fan. Everyone agreed the rich raspberry chocolate mini cakes were superb.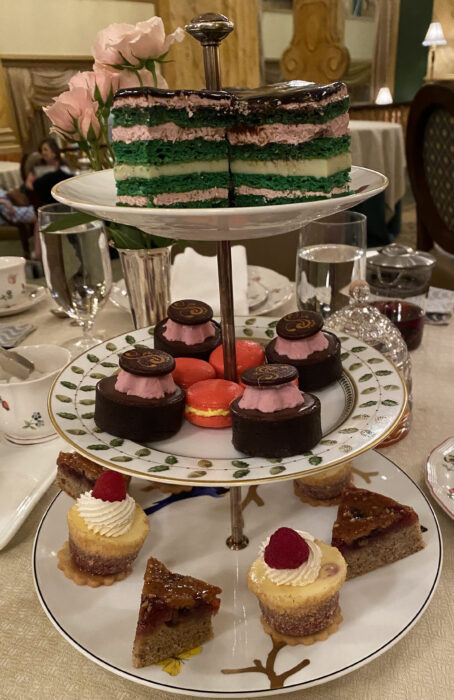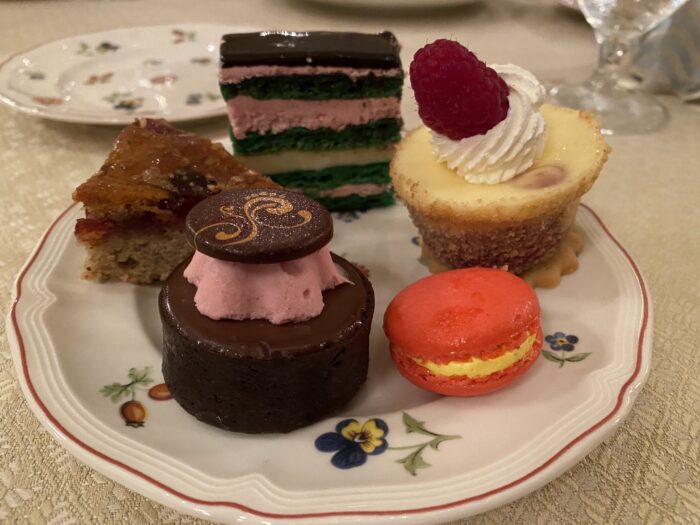 Everything comes in small bites but they add up. I promise you will not leave hungry!
Tourists and locals alike can appreciate the experience of a fine afternoon tea served in radiant surroundings. It's a relaxing way to spend time with friends enjoying good company and conversation.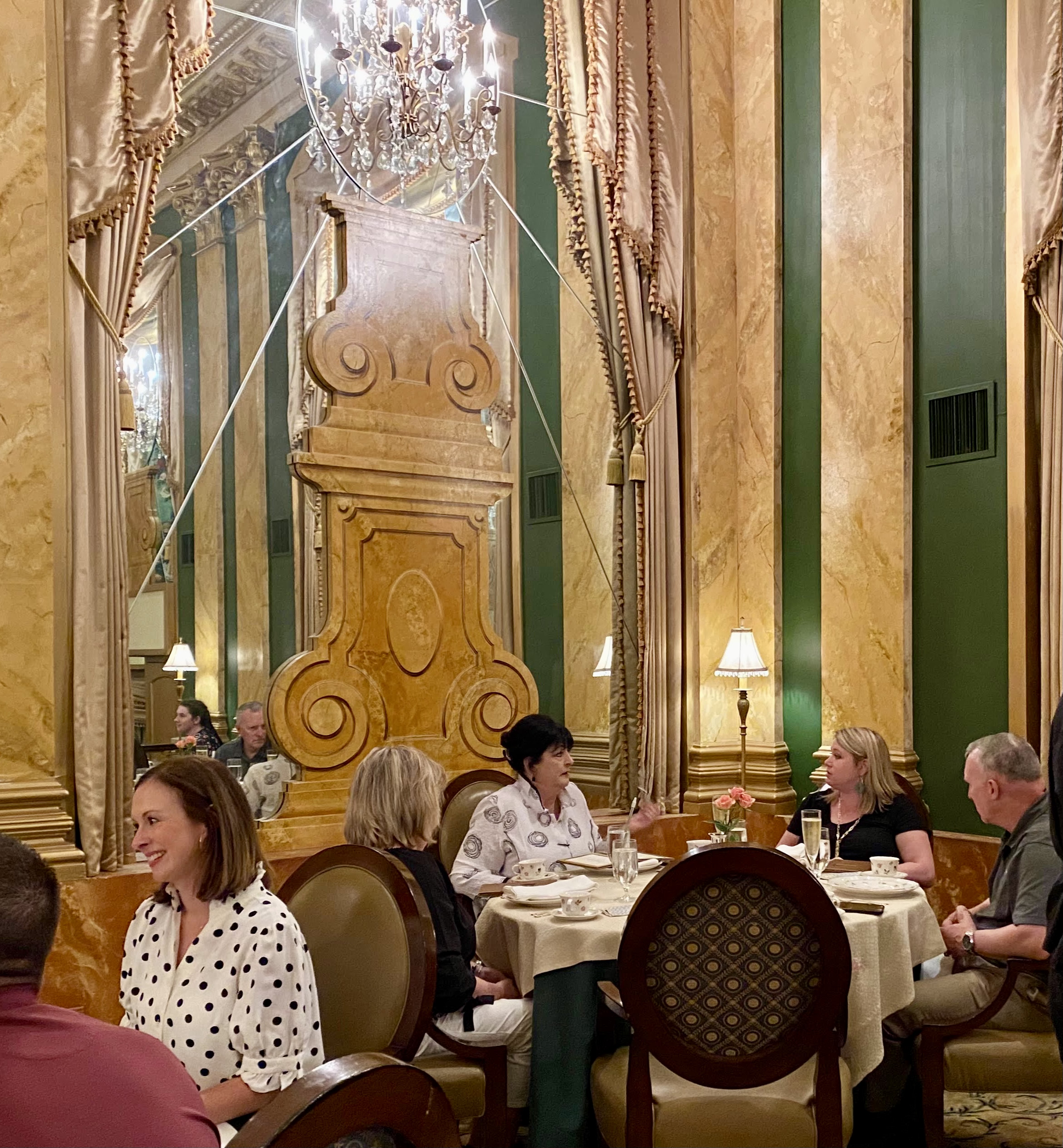 Reservations are recommended especially for larger groups. Let them know about any dietary restrictions and they will graciously accommodate you.
Tea is served Thursday – Sunday 1:00 – 3:30 p.m.
Chez Philippe Tea is $50 per person or $60 with a glass of champagne. The price includes valet parking but excludes tax and tip.
Duckie Tea is $30 for children 12 and under.
This is not the first time we've been to the Peabody. Here is our first review.
Cheers!