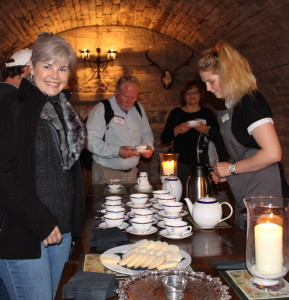 The Scottish people are so very hospitable.  To my delight, we were were offered tea and wonderful shortbread cookies everywhere we went.
It was no different when we visited Glamis Castle.  The very first thing on our tour was tea and cookies.
The deceptively plain cookies melt in your mouth.  The shortbread is so sturdy and dense that it would probably travel well in your pocket or purse. I never found out since I ate mine right on the spot.  The slightly sweet, buttery cookies might be a bit dry if you ate them by themselves but that makes them the perfect complement to your stout Scottish black tea.  A perfect pairing – like soup and crackers. The cookies add sweetness to the tea and the tea helps you daintily eat your treat.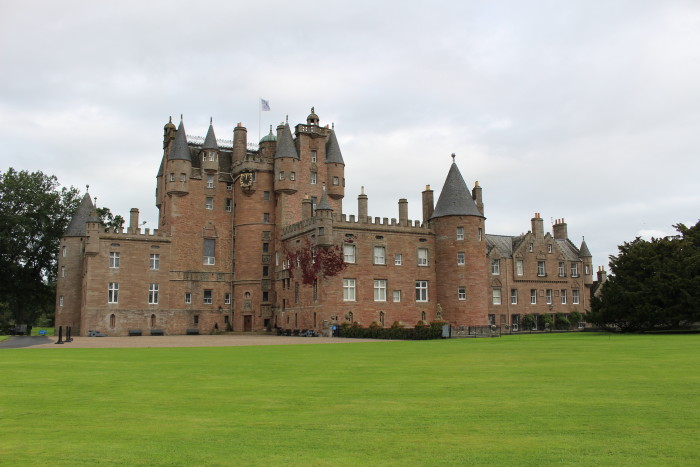 The tea was a warm start as we made our way through dark medieval rooms, narrow passageways, and stately rooms.
Glamis has been the home of the Bowes-Lyons family since 1372. The castle is linked to the British Royal Family, in particular the late Queen Mother who lived and played here as a child and raised her children, including Queen Elizabeth, here.  Like most castles it has many ghost stories to relate.  We didn't encounter any ghosts but it does seem like a good place to find one if you looked hard enough.
We wandered the elegant grounds taking in the expansive views and the brisk weather.  And it all started with a warm cup of tea and a sweet Scottish shortbread cookie.