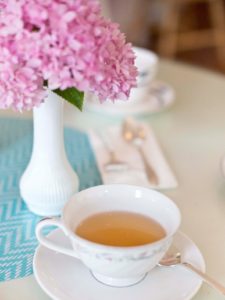 Here's the complete guide to throwing your perfect tea party. 
How to make it easy?  Two words:  Plan and organize!
Six weeks before:
Create theme. (What)
Set date & place. (When & where.)
Make guest list. Names or at least the number of people. (Who.)
Book caterer, if needed.
Five weeks before:
Buy invitations if mailing.  Note the dress code for your guests.
Address
Send out
Four weeks before:
Create Menu: who will prepare what?  Self? Caterer? Friends? Buy?

savories
scones
sweets
condiments

teas

Finalize menu with caterer, if using one
Three weeks before:
check your pantry
make grocery shopping list
Buy staples as needed:  tea, sugar, sugar cubes, flour, lemon curd, strawberry preserves, etc.
Two weeks before:
Clean hardware and linens. Polish silver.

teapots- one for 2-3 people
strainers
cups & saucers
plates

forks, knives, spoons 

linens:  tablecloths, napkins 

3 tiered servers
platters
trays 
other serving dishes for jam, relish, etc.
serving utensils including tongs
drip plates
other seasonal decorations for the tablescape 
candles, candlesticks
tea warmers
vases
pitchers
glasses
tea kettle(s)

Buy or borrow any missing hardware items
Bake ahead/make ahead any items that can be stored/refrigerated/frozen:  cake, buttermints, scones, bread, etc.
Pack items if hosting tea at another location.  Include knives, cutting board, cake decorating tools, hot pads, spatulas, extra tea pots for brewing (will need if serving a large crowd)
One week to a few days before:
Dust
Buy flowers, ferns
Buy produce – fresh fruits and veggies, fresh herbs, milk, devonshire cream
Two days before:
Confirm with attendees.  Invite one or a few guests to have the honor of pouring.  This is an endorsement of their social graces and your trust in them with your teapots!
Iron/steam linens.
One day before:
Day of baking/making.  Make ahead anything that you can now.  Sandwiches can be made the night before.  Put a damp paper towel over them to prevent drying out and place in an airtight container or cover with plastic wrap.
Set the table
Arrange flowers
Decorations
pick fresh herbs and edible flowers from the garden
Day of:
Make any last minute items that could not be made or assembled ahead of time.
Plate and refrigerate three tiered servers
Brew 

tea

and keep in carafes/thermoses if serving a large crowd
Dress
Don't forget the music!
Set food out 
Guests arrive
Brew

tea

if small crowd
Keep food stocked
Enjoy!