For a traditional take on afternoon tea, visit The London Tea Room in St. Louis, Missouri, located near Tower Grove Park.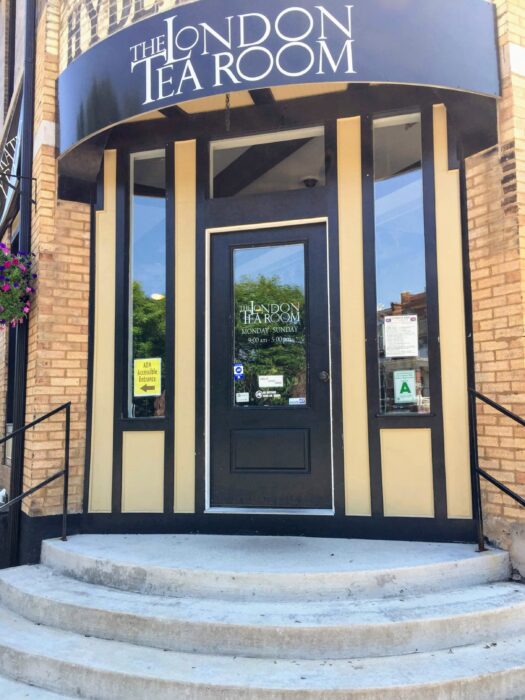 As you enter The London Tea Room you'll see it's a favored hangout. The front half of the restaurant is for casual dining and counter sales of baked goods and tea.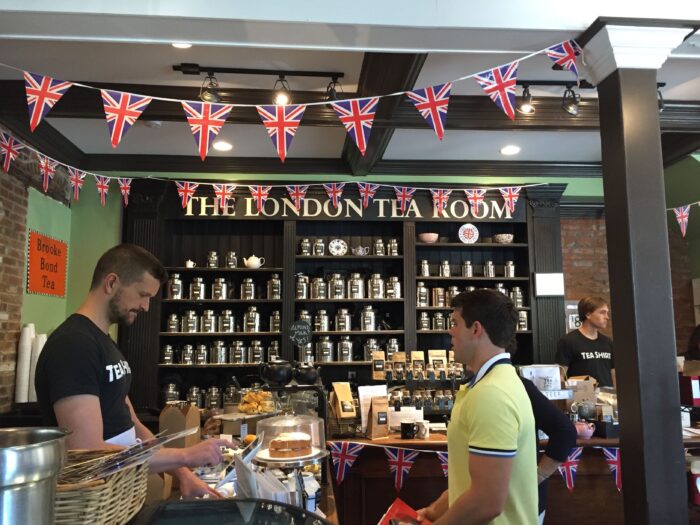 Walking towards the back you'll see the black and white checkered floor. This is the area where they serve elegant afternoon tea.
We were seated at a lovely table set with Gracie Bone China decorated with dainty violets.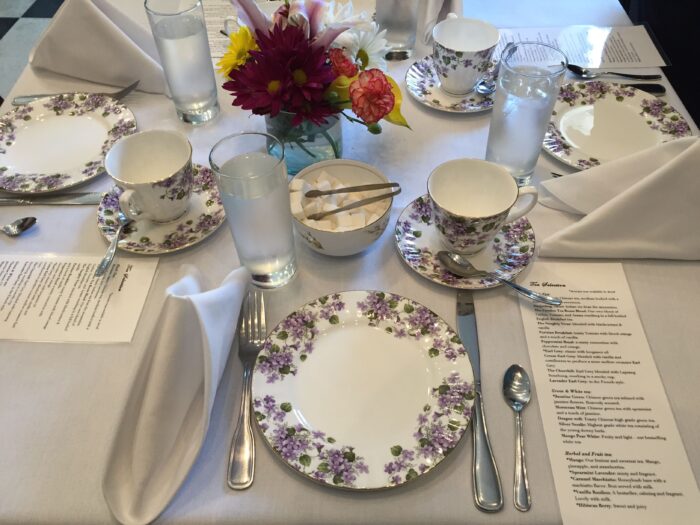 The Tea
They offer a wide variety of loose leaf teas you can purchase to take home and brew or enjoy a pot of tea while you're there. It looks like they really know their tea!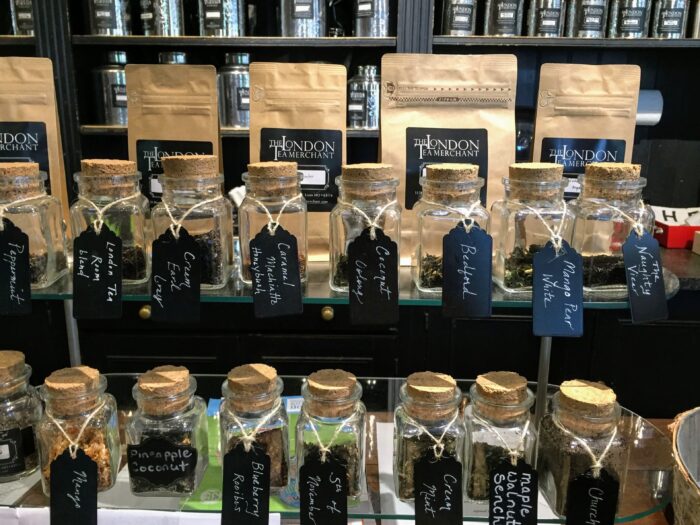 The first thing to decide on once we were seated is what tea to have. I chose one of their house blends called The Naughty Vicar. For some reason, that name caught my attention. Also, it had black currants as one of the ingredients and I love a good black currant tea so that was my pick.
It had a nice light vanilla aroma and taste, not so much of the fruity black currant I was looking for but nice nonetheless.
Next came the food on 3 tiered stands overflowing with treats. We started at the bottom and worked our way up.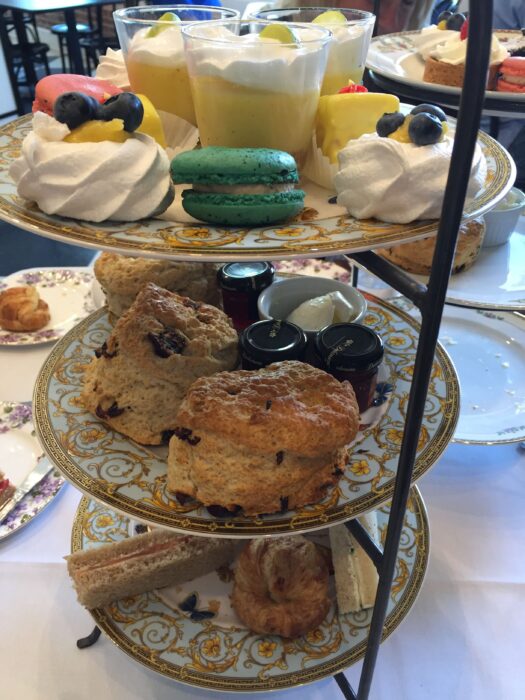 The Savories
We started off with the sandwiches consisting of:
hummus, white cheddar and tomato
cucumber dill
chicken salad with fig and goat cheese on a mini croissant
and a smoked salmon with lemon butter on honey nut bread. 
It was the best smoked salmon sandwich I've ever had. So much so that I ate it before getting a picture but you can see it on the picture of the stand above.  It was buttery and lemony and not at all fishy. There was very good cheese on the hummus, cheddar and tomato sandwich but I couldn't detect the hummus. It was just overpowered or maybe not enough of it. The chicken salad was quite tasty with a slight amount of curry, fruity craisins, and some celery to provide a bit of crunch.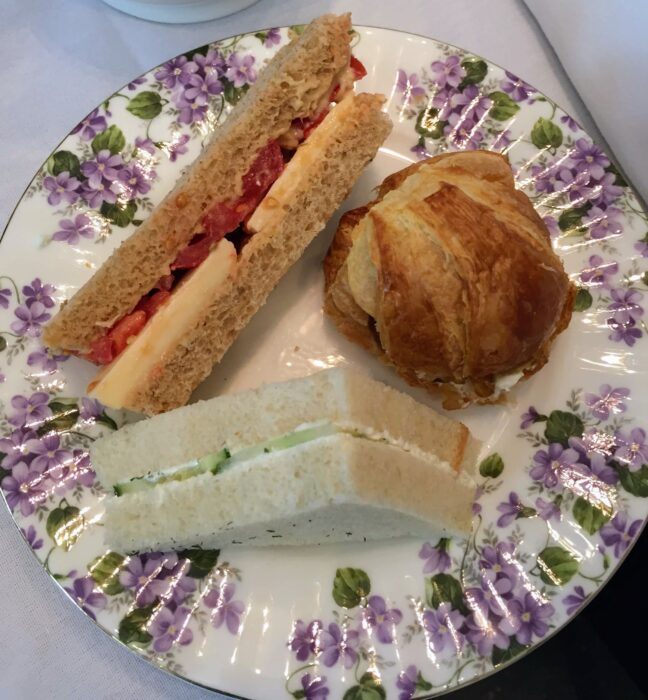 The Scones
The big scones on the second tier were very, very good. Possibly the best I've ever had. And I've had a lot of scones! They served us two kinds: currant, and cranberry-orange which was my favorite because it had a really good texture and taste especially with strawberry preserves and clotted cream. Heaven.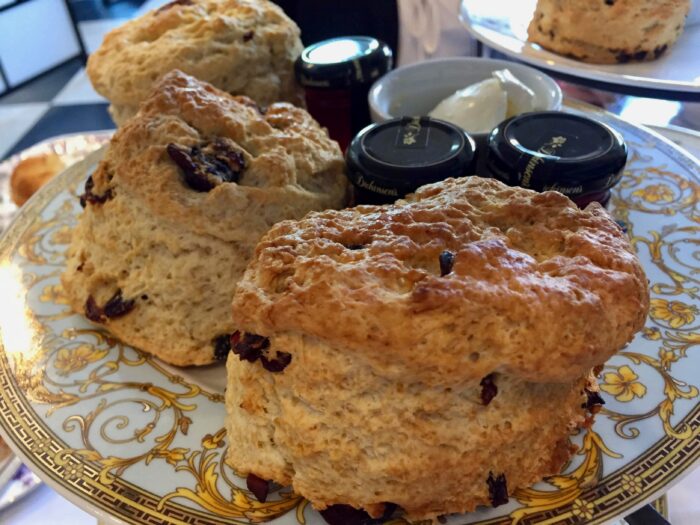 The Desserts
Lastly was the dessert line-up:
Mojito lime custard
Earl grey infused macarons
Passion fruit blueberry pavlova
Peach lemon petit fours
I don't typically like macarons but I actually did like these and thought it was the best of all the sweets.  You could actually taste the tea and it was a nice, distinct flavor but not overwhelming either.  We had mixed reviews at the table on the mojito lime custards.  Some felt it was too minty but I liked it.  The pavlovas were beautiful to look at and melted in your mouth.  The tart filling was a nice complement to the chewy and crunchy merengue.  I didn't care for the petite fours because the icing was rather grainy.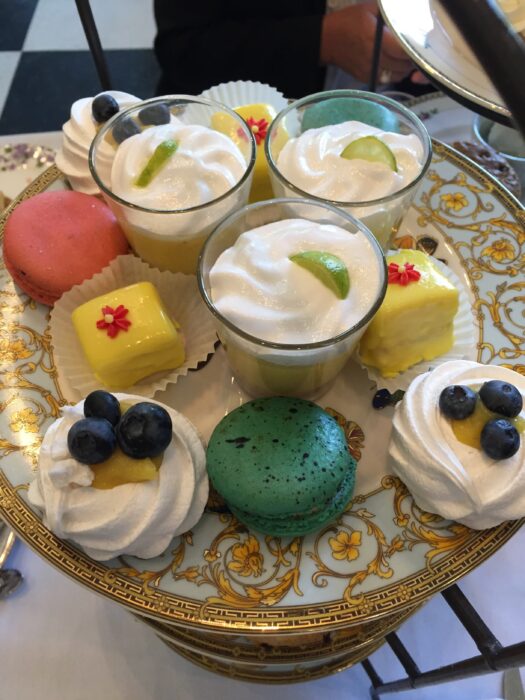 The service was spot on, the food (as you can see) was lovely and it was a delightful experience with good friends. I highly recommend it and look forward to going again someday.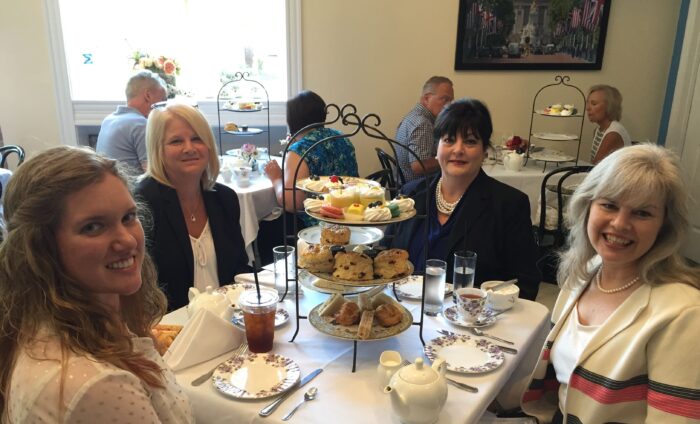 Afternoon tea is served on Friday, Saturday, and Sunday. Reservations are required at least 24 hours in advance. The cost is $32.50 per person.
Cheers!