Are you dreaming of the perfect vacation on a breezy, tropical island? You might plan a trip to St. Kitts, a West Indies island in the Caribbean, where you will find the Fairview Great House surrounded by a lush botanical garden.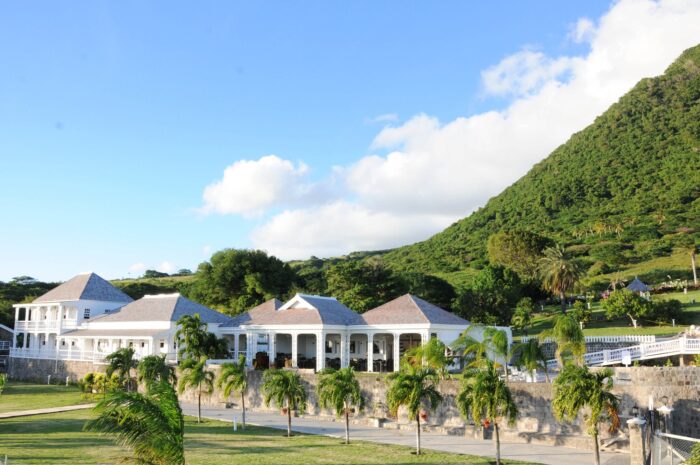 The house, built in 1701, is the only surviving French Great house in St. Kitts.  It has had seventeen owners and inhabitants of various nationalities all leaving their mark on the character of the property.  It was recently renovated and is open for your enjoyment.  Guests can sign up for a tasting of rums made on the grounds, cooking classes, yoga, ATV trail rides, and afternoon tea.
Of course, we were there for tea.
We started with pink heart-shaped scones with a locally made guava jam, butter and clotted cream.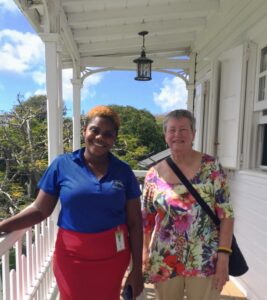 Mida, (left) our guide for the day, did a wonderful job explaining and presenting our teas. She even let us know that she did some of the cooking for our meal too. She explained that the four herbal teas on the table were all grown on the property. Normally they serve basil tea but it wasn't on the menu today because the monkeys had raided the garden and got all the basil. Island problems!
Technically, herbal teas aren't actually tea. Tea, as you know, comes from the Camellia Sinensis plant. But, herbal tea is brewed like a tea, so we call it a tea. Gotta love the English language. The correct term for herbal tea is tisane but we'll use the common term "herbal tea" going forward but now you know. 😊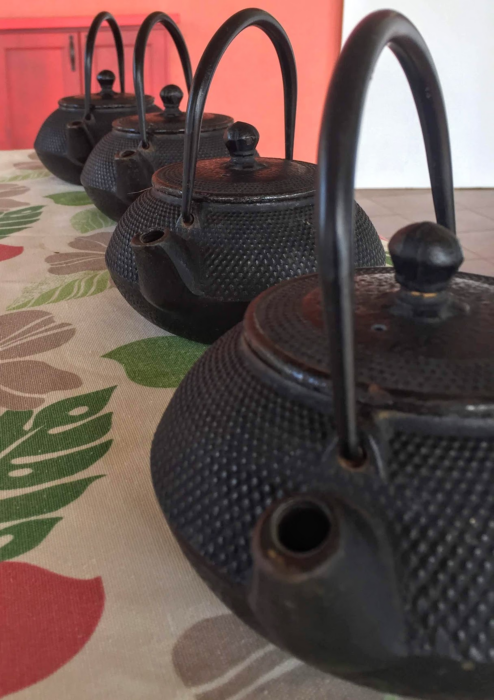 Our first tea was lemongrass which she also called fever grass. It was a light yellowish green color with a smooth, minty taste. Our hostess said it was good for cold & flu, weight loss, depression, cancer, clear skin, digestion, and arthritis. Quite a list of benefits!
It was served with a cold tuna salad & chopped cucumber sandwich.
Our next tea was a French Tiki Thyme, with a bold aroma but a light tea that she said is a good pain reliever and she recommended mixing it with bitters. It was served with a cold tomato & cheddar cheese sandwich.
Next we had butter coconut puffs that reminded me of pecan pie so that means they were good. We had sage (a member of the mint family) tea with this course which eases hot flashes, and indigestion. Very versatile. It also helps with smooth skin and shiny hair too. It had a light lemony flavor.
For the final course, we had a vegetable quiche filled with peppers, carrots, tomatoes, and mozzarella served with soursop tea. We were told the soursop tea was blended with all three other teas together because if you drank it straight that it would make you drowsy and is quite often used as a sleep aid. This tea was sharper than the others and had a tropical, slightly sour but mostly fruity taste.
But wait! There was more! We were served a bonus course – a slice of sweet, spongy, banana cake.
Quite a feast, I assure you, and what an experience.  We raised our cups in celebration of family and living the life you want.  You see, this is my sister, and we were celebrating her retirement.  What an accomplishment!  I'm so happy for her.  I think she's happy too.

So, if you're considering going to St. Kitts (and that's a great idea), I highly recommend including a stop at the Fairview Great House for afternoon tea. It is well worth it. Cheers!