Good Company Cafe started serving tea recently and to kick it off with a bang they offered a full afternoon tea with a modern twist. It was a very popular event with quite a crowd but worth the wait.
The Tea
First, the most important part is the tea. They've started with some solid basic choices and seasonal selections. They have hinted that they may expand their tea menu over time. Fingers crossed!
They have several black teas to choose from: English Breakfast, Earl Grey, and Cinnamon Chai. They have a classic green Sencha Tea, a lovely Golden Buds Milk Oolong, and a peppy Peppermint herbal tea. Something for everyone!
I had the English Breakfast tea just because I was in the mood for a strong, energizing black tea.
It was served in this contemporary glass pot so you can see the beautiful red-tinted chestnut hue. The bold, smooth taste along with the malty aroma is what one finds in high quality teas and is particularly enjoyable with the traditional splash of milk and a little bit of sugar but is just as delightful on its own.
They bring it to the table with the tea leaves brewing right in the infuser so you can let them steep as long as you like and then just remove the basket and set it aside in a little saucer they bring specifically for that purpose. They know what they're doing with their tea!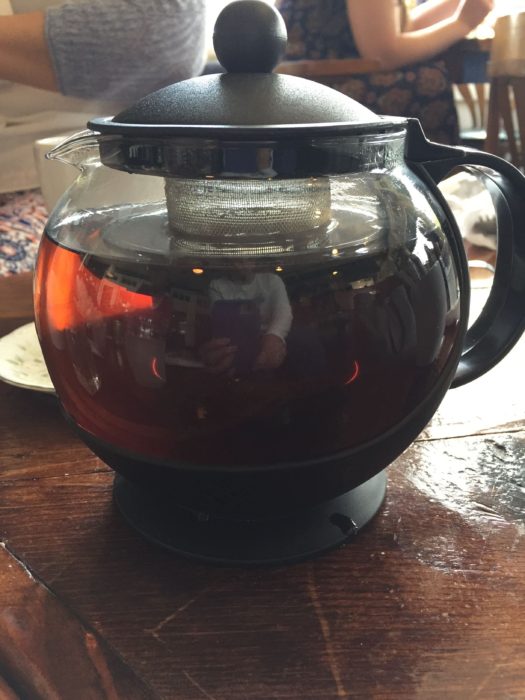 The Food
The hardworking co-owners are culinary school trained chefs. And you can tell. The food was a step above your standard afternoon tea fare. For our savories course we had four kinds of sandwiches: cucumber and tomato jam, turkey and cranberry chutney, chicken salad, and a sour dough crostini with a soft herbed cheese and topped with smoked salmon.
The second course was a sampling of their fresh-baked goods that they offer on a daily basis served with tasty toppings.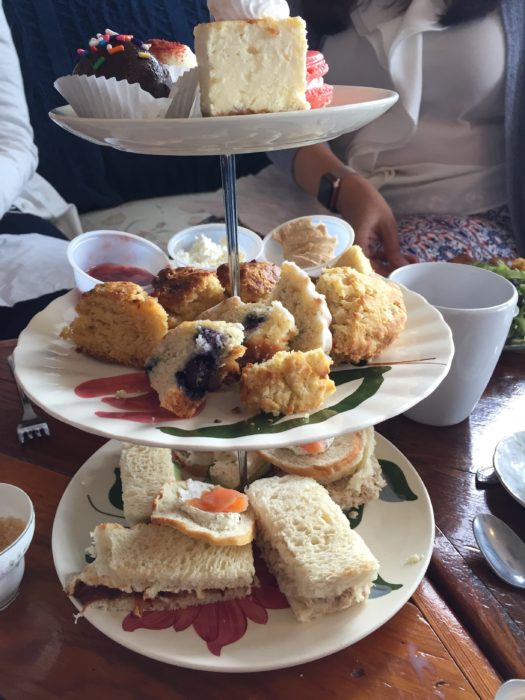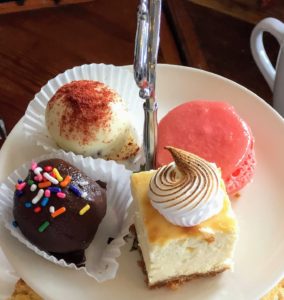 For the dessert course we had a made from-scratch macaron, 2 large cake balls, and a light and fluffy cheesecake topped with a toasted meringue.
The Good Company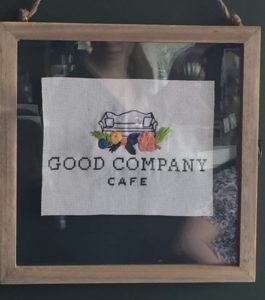 The cafe has a relaxing, comfortable atmosphere where you can enjoy time with your friends or cozy up in a corner by yourself. Good Company Cafe serves fresh, appetizing food created by the co-owners who met in culinary school. I certainly enjoyed the benefits of their expertise and creativity. You will too!
And of course what better way to enjoy tea at the Good Company Cafe than with some good company? It was good to get out, good to catch up and good to laugh. I highly recommend you make plans for tea with your friends soon! It's a good thing.
The tea service at Good Company Cafe is top notch. They are serving high quality tea and brewing it properly. The three tiered afternoon tea meal was meant to serve 2-3 people and was very reasonably priced at $30. Tea is served by the cup or by the pot, large or small. And, they made us a deal we couldn't refuse on their sparkling wine!
Check them out at 7500 Memorial Pkwy SW #123, Huntsville, AL 35802. Open 8-4 Mon – Wed, 8-9 Th – Sat. Closed on Sunday.
Cheers!
#DineHsv