Do you crochet or knit? If not, you might be inspired to take it up after reading Audrey's story. Plus knitting is just good for you. Studies show that knitting relieves symptoms of stress. The repetitive action of needlework can induce a relaxed state like that associated with meditation and yoga. Once you get beyond the initial learning curve, knitting and crocheting can lower heart rate and blood pressure and reduce harmful blood levels of the stress hormone cortisol. And, like Audrey, you might have some cool creation to keep when you're done.
Audrey's mother taught her to knit when she was just a toddler. She believes now it was to keep her busy so her mother could get things done! Then decades passed before picking up knitting needles, but she has picked it up again and, as you can see, has become highly productive.
She knits. But not just anything. Audrey specializes in the handy tea cozy.
Note that those who live in America favor the spelling cozy. The British prefer cosy. In Canada, where Audrey lives, both spellings are used. Just to keep life simple.
Regardless of how you spell it, her tea cozies started out of necessity. She had a French Press for her coffee and just wanted a cover to keep it hot. Here it is. Decorated with a large tree frog, this is the first cosy/cozy she ever made.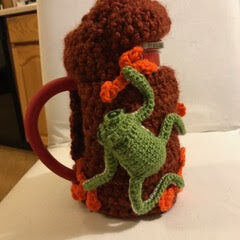 Here are a couple of snowmen that started off as tea cozies and then one transformed into a Christmas tree topper and another became a touque.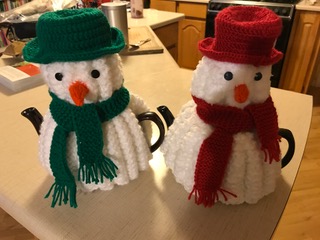 She was hooked and it took off from there!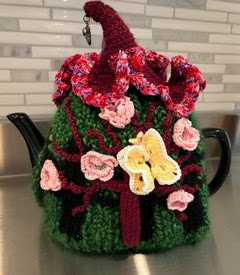 Look how detailed these are! Butterflies, flowers, mushrooms, and it looks like a mouse holding a spatula.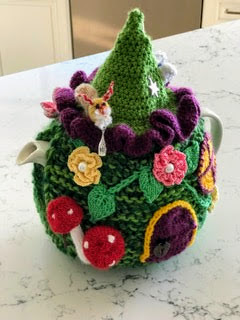 Audrey says she normally creates the tea cozy based on inspiration pictures and a lot of trial and error. She googles patterns for the 'critters', flowers, and such.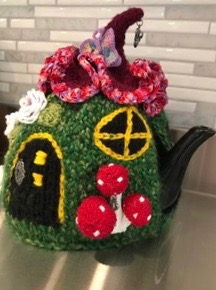 Cute little hobbit houses! And what detail! The more you look the more you see.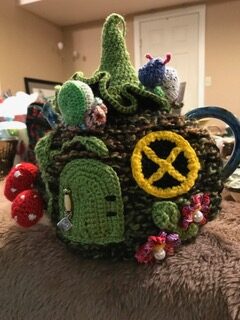 She has continued on. They are mainly gifts, but some have been raffled off for charity auctions.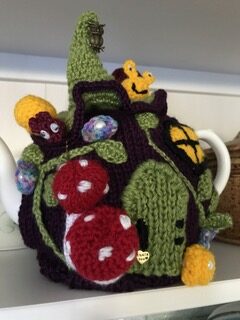 Audrey is quite an accomplished lady.  She has a degree in engineering and also holds her Certified Financial Planner designation and currently works in the field of Financial Services.  In addition to knitting she is also a baker!  It sounds like this is a woman who knows how to keep busy.