Sometimes you just luck into something special. I attend an annual women's retreat with some amazing, accomplished women.  It's always a great treat to carve out some time to spend together. We've done this for many years so they know by now that I'll make tea for them. I enjoy sharing my tea and getting their input on tastings – and this blog!
I decided that we were going to have a BYOTC (Bring Your Own Tea Cup) party. Honestly, I did this because I was seeking efficiency. (Can you say lazy?) I really didn't want to have to pack up a bunch of my own tea cups and haul them to the cabin on top of everything else. It was easier on me to ask everyone to bring their own cup and saucer but, in a surprising turn of events, we had some magical moments because each cup had its own story and meaning. Some were gifts, some were purchased on a special trip.  And of course, they're all beautiful.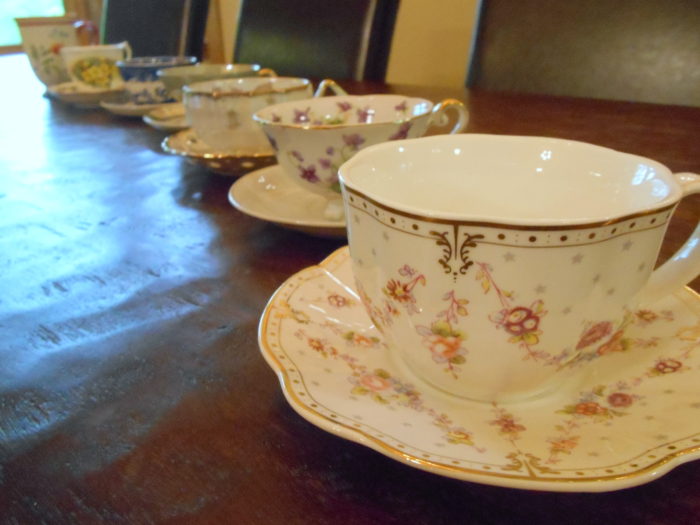 Family Reunion
These two cups came from different homes but both were made by Royal Sealy China – a Japanese company that made porcelain for export from the 1940s to the 1960s. The creativity of the artists is seen in their multitude of designs but you can see that they had a certain similar style and flair. Melodie, brought the pink cup and saucer on the left. The three-footed cup and the delicate cutwork saucer make a very unique set. It's special to Melodie because it was her Grandmother's. The aqua colored cup with a pedestal base on the right was a gift to me from my sister.  You can see the pearlescent finish shimmers and glows, characteristic of Japanese lusterware.
We were both tickled that our sister teacups got to have a family reunion.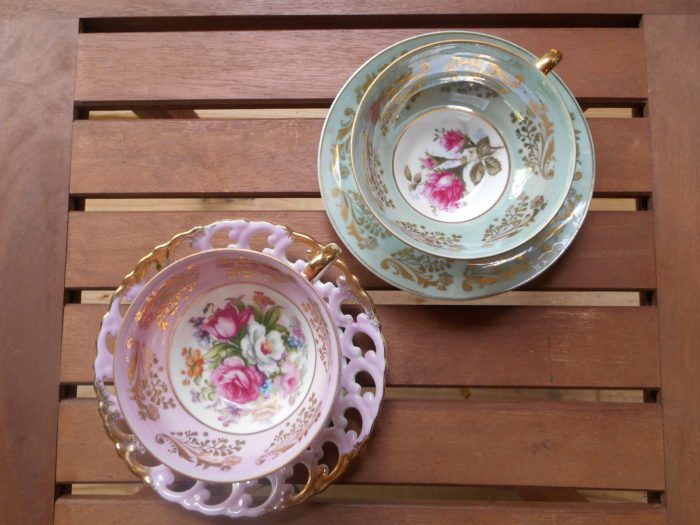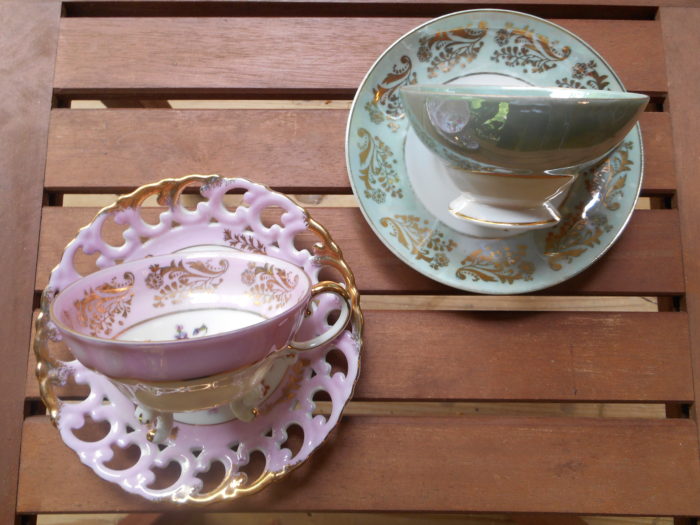 Be Present
The next tea mug is unique as well and comes to us with a great story.
When Caitlin and her husband were young newlyweds, they visited the Torpedo Factory in Alexandria, VA. They found an artist who had the most amazing sculptures. They looked at everything, just in love with his work; but they were young & poor and the sculptures were expensive. But they COULD buy a pair of his handmade mugs. The mugs have a very rustic exterior and an irregular lip. He told them that he made them irregular on purpose, so that they were a little bit difficult to drink from, and that would make you pay attention or you'd end up with tea down your shirt. It was his way of helping you be present in the moment. Caitlin says she thinks of it every time she uses the mug, and it makes her slow down, take a minute, and just be.
Isn't that what tea's all about?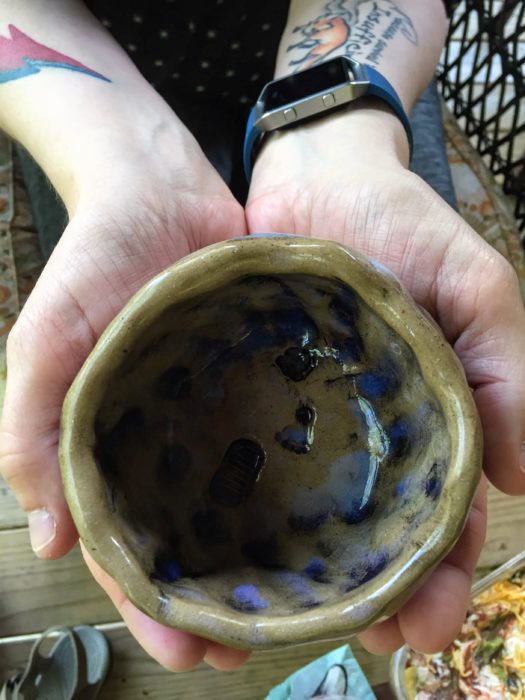 In another twist of fate, the Torpedo Factory was the inspiration for Lowe Mill ARTS & Entertainment – the largest privately owned arts facility in the United States – which is where Caitlin now owns and operates a thriving business today. More on that in a future post. Stay tuned!
Time with friends is always time well spent.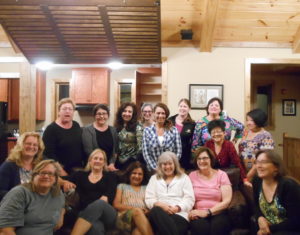 Host your own BYOTC Party.  May you, too, have magical moments.  Let us know how it goes!