1. Get a cup of hot tea for yourself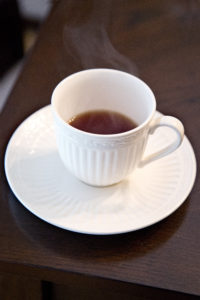 Enjoy a quiet moment just for you.
2. Stock your pantry
Some of my favorite providers of quality loose leaf tea are:
Harney & Sons
Piper & Leaf
Simpson & Vail
Steeped Tea
Teabox
Perhaps this is a good time to try something new and different!
3. Have tea with friends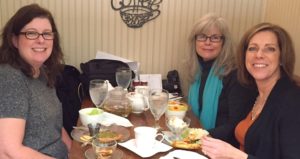 Life gets so busy.  The time you get to spend with friends is a treasure.  Don't miss it!
4. Stock up on hardware
Part of the fun of having tea is having cool and unique things to play with.  Tea kettles, tea pots, cups and saucers, mugs, infusors, tiered serving trays, linens, hats, gloves, even pearls can be necessary equipment.  Perhaps you suddenly find yourself in need of a bacon fork, an ice cream slicer, or a butter tine.  You never know when you might need one!
I recently broke one of my favorite everyday teapots – a clear glass teapot and was just perfect for brewing a beautiful flowering tea.  I think this is a good time to find a replacement.  Time to shop!
5. Read a book – preferably about tea
There's a great series of tea shop mysteries by Laura Childs.  I enjoy the stories but I've also learned a great deal about tea.
If you want something strictly focused on tea then Tea Time Magazine is always helpful.  Any books written by Bruce Richardson, Jane Pettigrew, or James Norwood Pratt are worth picking up.  All are renowned tea experts.
6. Throw a tea party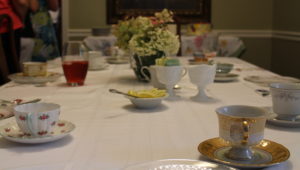 Throw a tea party – large or small.  Invite a group of friends to get together over a cup of tea. I mean, honestly, do you really need an excuse?  If you do, then how about it's cold outside and it's National Hot Tea Month?
7. Stop in at your local tea room
See our Ratings & Reviews page for some favorites.  Order a pot of hot tea and have a scone or two.
8. Take a gift
Do you know someone who could use some company?  Perhaps a friend who has had a rough go lately or an elderly person who would love to have some time with you?  Take a thermos of tea along with a couple of tea cups and you've made a little picnic that will cheer anyone.
9. Share this post
Let's get the word out about the joys of tea.  I will be so thankful for your help in spreading the word!
10. Let me know how you're celebrating National Hot Tea Month!